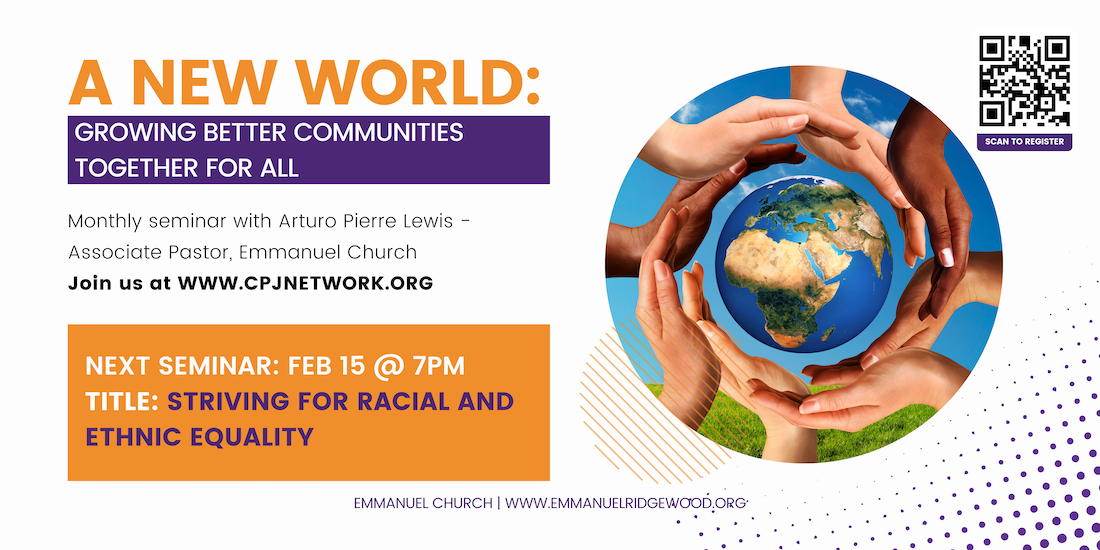 Seminar – A New World: Growing Better Communities Together for All
You are invited to join a year-long monthly seminar on A New World: Growing Better Communities Together for All led by Prof. Arturo Pierre Lewis, 7 PM – 8:30 PM on the third Tuesday of each month on Zoom.
IMPORTANT: Please note that you only need to register once for this seminar.
Seminar Description: A sociological approach to understanding the complexities of society. Descriptions of various institutions, organizations and social concerns including the economy, education, families, gender and government that help shape how we think and live, with action oriented discussions and podcasts.
The Monthly Seminar meeting starts at 7:00PM – 8:30PM ET, each 3rd Tuesday on Zoom followed up by a small group, "Midway Moment" later each month.
What is Midway Moment?
Midway Moment gatherings meet online during the middle of each month before the next seminar session. Each gathering will be led by an assigned facilitator who guides a one-hour conversation using critical thinking questions from the prior seminar and questions leading to the next topic. The questions will be sent in advance by the instructor.
For more details and updates, please check out our Facebook Page: www.facebook.com/cpjnetwork
UPCOMING SEMINAR DATES: 2/15, 3/15, 4/19, 5/17, 9/20, 10/18, 11/22